Thuja occidentalis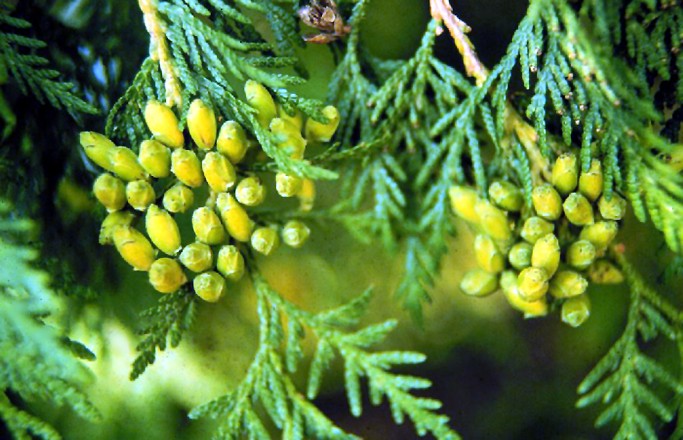 Thuja occidentalis is a medicinal plant. It is a coniferous tree native to eastern Canada and much of the north-central and northeastern United States, belonging to the cypress family Cupressaceae.
Medicinal Properties
The plant is indicated to treat bronchitis, bacterial skin infections, and cold sores in the respiratory tract. It's also used to treat painful illnesses, including osteoarthritis and trigeminal neuralgia, a nerve disorder that affects the face.
Uses
Thuja occidentalis' leaves and leaf oil have long been used as a medication to treat various illnesses.
For joint discomfort, osteoarthritis, and muscle soreness, thuja is occasionally rubbed straight to the skin.
Thuja oil is also used to cure skin diseases, warts, cancer, and repel insects.
Zingiber officinale
Ginger (Zingiber officinale) is a blooming plant with a rhizome used as a spice and traditional medicine. It was likely domesticated first by Austronesian peoples in Maritime Southeast Asia.
Medicinal Properties
Antiarthritis, anti-inflammatory, anti-diabetic, anti-bacterial, antifungal, anticancer, and other therapeutic qualities are attributed to the plant's chemical composition.
Uses
It is still frequently used in traditional medicine, particularly carminative, gastrointestinal stimulant, rubefacient, and anti-irritant.
Nausea, diarrhea, dysentery, dyspepsia, flatulence, other gastrointestinal issues, fever, cough, colds, chest congestion, pleurisy, cramps, and dropsy, are all treated with rhizome preparations.
Rhizome juice is used to treat migraine headaches, catarrh, colic, and menstrual cramps.
Ginger leaves are consumed to relieve stomach aches and rheumatism, and pounded leaves are applied to the skin as a poultice to relieve headaches.
Curcuma longa
Curcuma longa is the scientific na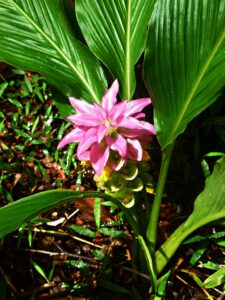 me for turmeric, which is a flowering plant in the ginger family Zingiberaceae. The plant is a rhizomatous perennial herbaceous plant that is endemic to the Indian subcontinent and Southeast Asia.
Medicinal Properties
Curcumin, an element of turmeric, may aid in the reduction of edoema. Turmeric is a common ingredient obtained from the Curcuma longa plant's root.
Uses
Turmeric paste is used to treat various ailments, including pain and inflammation, because curcumin and other components in turmeric can help reduce swelling.
Based on their long-standing traditional use, turmeric herbal teas taken by mouth could be used to ease moderate digestive disorders such as feelings of fullness and gas.
Gymnema Sylvestre
Gymnema Sylvestre is a woody climbing shrub native to India, Africa, and Australia's tropical woodlands. For thousands of years, its leaves have been employed in the ancient Indian medicinal practice of Ayurveda.

Medicinal Properties
It has long been used to treat various diseases, including diabetes, malaria, and snakebites.
Uses
Gymnema Sylvestre is usually drunk as tea or chewed as a leaf.
It's usually given as a pill or tablet in Western medicine, making dosage control and monitoring easier.
It's also available as an extract or leaf powder.
Withania somnifera
Withania somnifera, also known as ashwagandha, Indian ginseng, poison gooseberry, or winter cherry, is a Solanaceae (nightshade) family annual evergreen plant native to India, the Middle East, and portions of Africa.
Medicinal Properties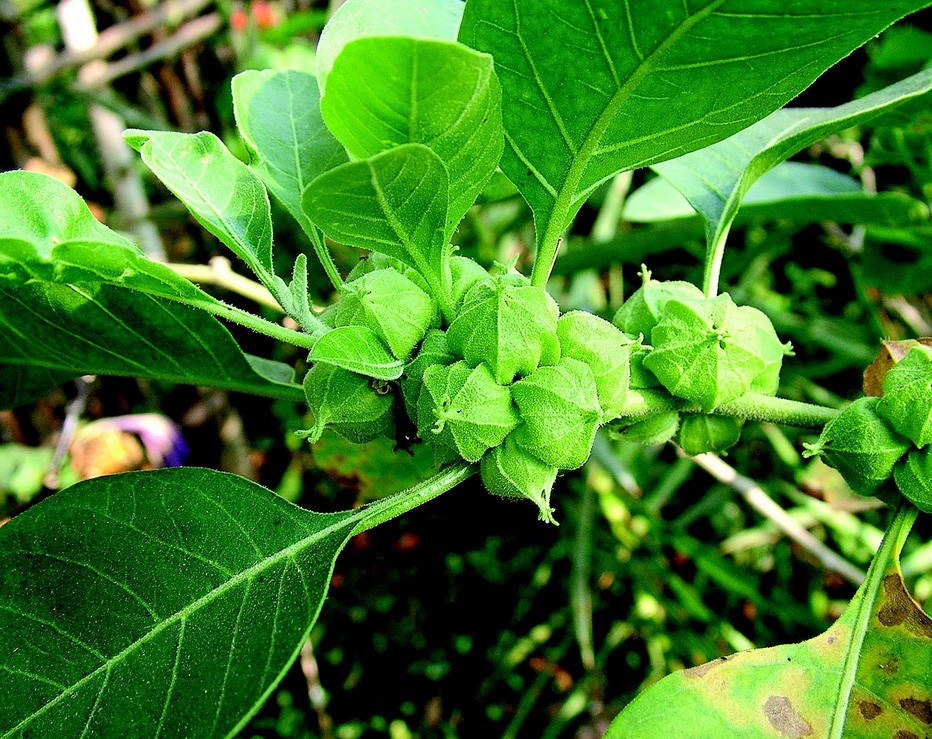 Ashwagandha contains chemicals that may help to relax the brain, reduce edema, lower blood pressure, and alter the immunological system.
Uses
Ashwagandha's roots and orange-red berries have long been used for medicinal purposes.
The use of ashwagandha extract at doses of 250 mg or 600 mg per day, or a placebo, can reduce stress levels.
Ashwagandha can be taken as a pill or as a liquid infusion.
Tinospora cordifolia
Tinospora cordifolia is an Indian shrub native to the country. It's considered an essential medicinal plant in Ayurvedic and folk medicine to cure various health problems.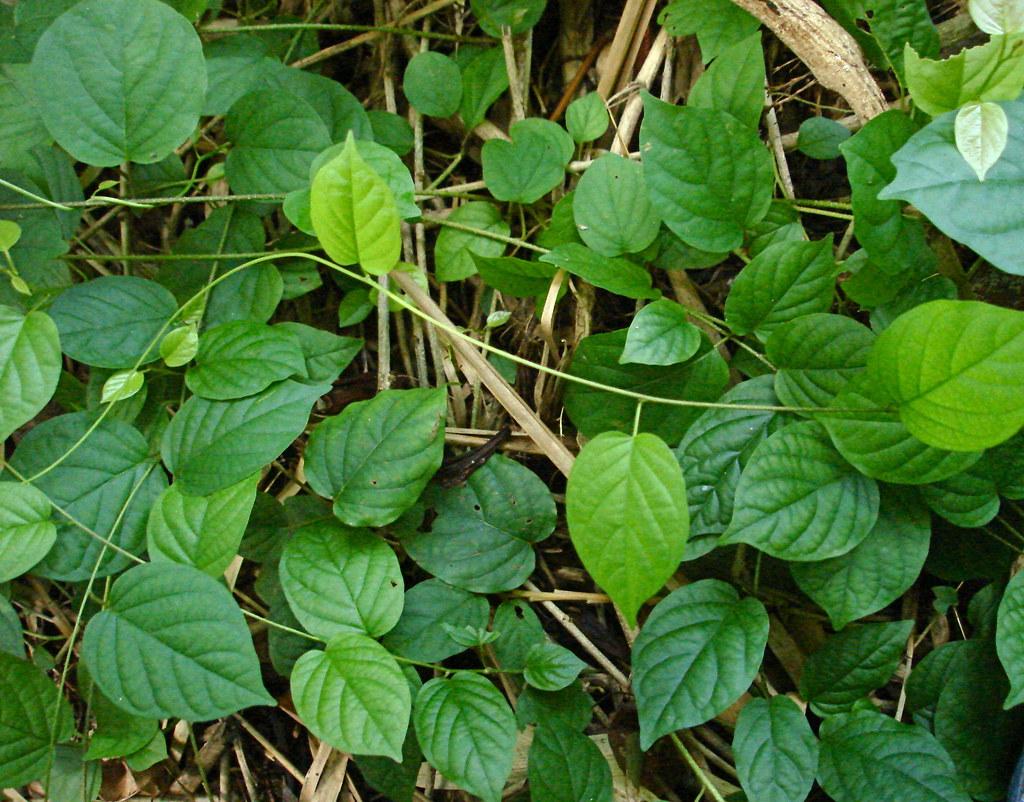 Medicinal Properties
Ayurvedic medicine uses its roots, stems, and leaves. Tinospora generally treats issues like high-level cholesterol, upset stomach, allergic rhinitis (hay fever), Gout, lymphoma, other cancers, Rheumatoid arthritis (RA), hepatitis, fever, gonorrhea, and syphilis, as well as strengthen the immune system.
Uses
Tinospora is available as a tablet or capsule supplement in stores. You should follow instructions on the label because each manufacturer's preparation may change.
Tinospora Cordifolia or Giloy powder can also be purchased dried, as well as a tincture or juice prepared from the roots and stems. Mix the prescribed amount with water to use it.
Phyllanthus Niruri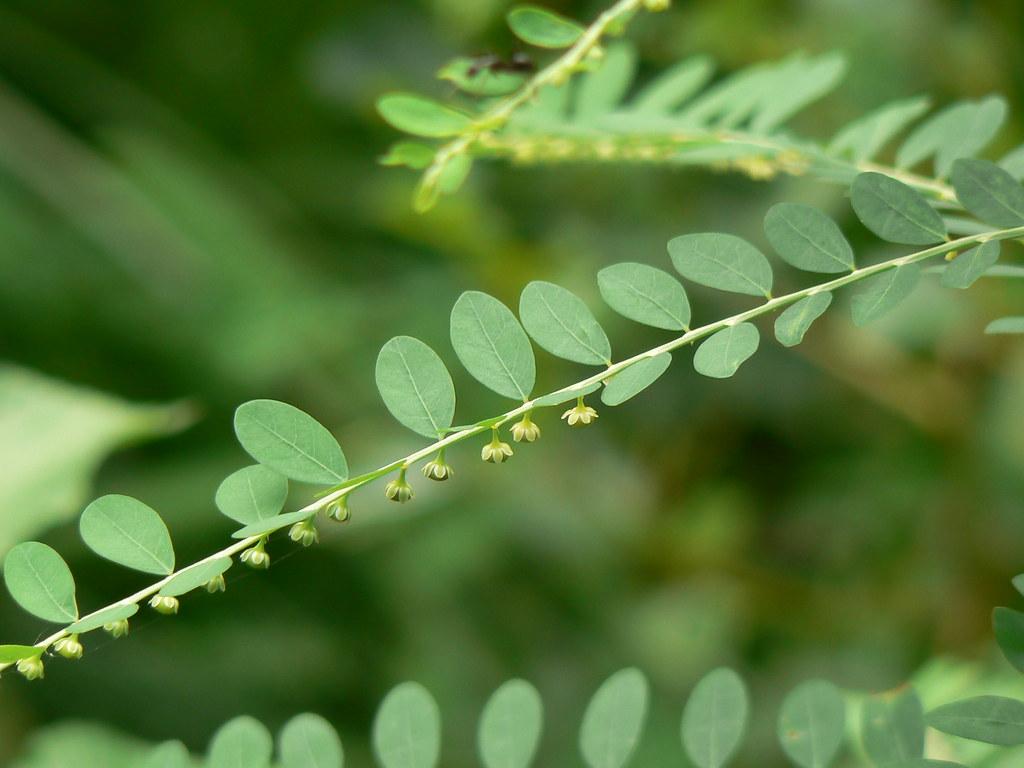 The Phyllanthus Niruri plant is native to tropical coastal areas and originates in India. It's been used in herbal medicine for a long time.
Medicinal Properties
The plant is used to treat a variety of ailments, including urinary tract stones, heatstroke, ulcers, and swelling diseases of the genitals, mainly the urinary tract.
Uses
Chanca piedra supplements are made from the entire plant, including the leaves, stems, and flowers.
Chanca piedra is available in a variety of forms, including teas, liquid extracts, capsules, and tablets. You can either take tablets or boil the plant leaves and consume the tea.
Ocimum Sanctum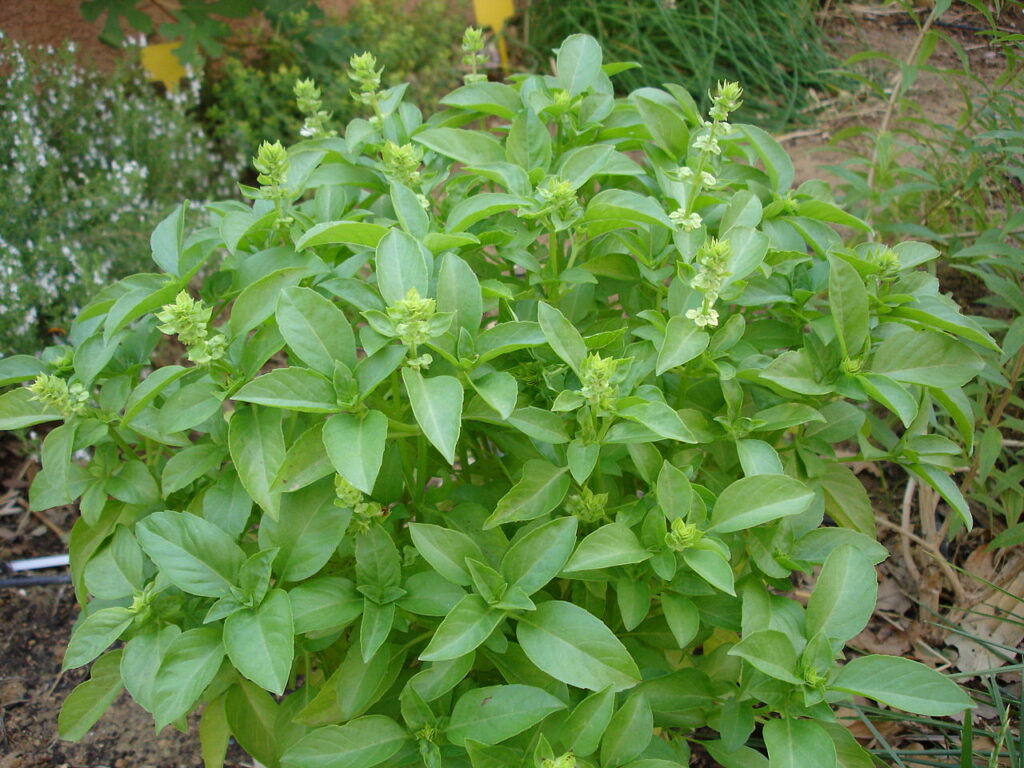 Ocimum tenuiflorum, sometimes known as holy basil or tulsi, is a fragrant perennial plant belonging to the Lamiaceae family. It is a cultivated plant native to the Indian subcontinent and widely distributed in the Southeast Asian tropics.
Medicinal Properties
Holy basil contains chemicals that are considered to reduce pain and edoema. They may also help people with diabetes lower their blood sugar levels. Tulsi has also been proven to help with metabolic stress by lowering blood sugar, blood pressure, and cholesterol levels, as well as psychological stress by improving memory and cognitive performance and acting as an anxiolytic and anti-depressant.
Uses
Holy basil oil may have anti-oxidant properties.
Holy basil is used to cure anxiety, stress, diabetes, high cholesterol, and a range of other diseases.
For best results, use 10-15 drops of Ocimum Sanctum tincture in a half cup of water twice a day.
Terminalia Chebula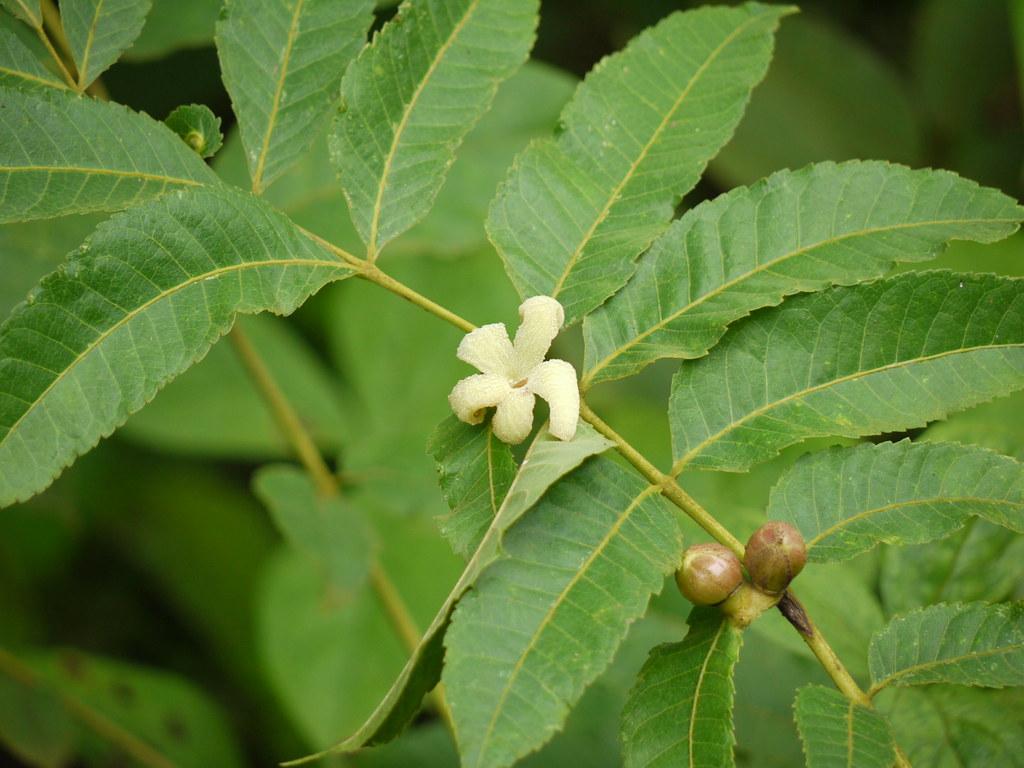 For its exceptional therapeutic capacity, Terminalia chebula is known as the "King of Medicine" in Tibet and is consistently put at the top of the list of "Ayurvedic Materia Medica."
Medicinal Properties
This plant was used to cure asthma, sore throats, vomiting, hiccoughs, dysentery, bleeding piles, heart problems, and bladder problems.
Uses
The entire plant has a strong medicinal value and has long been used to cure a variety of diseases.
The plant can be drunk with lukewarm water in the morning or evening or by mixing the water with honey, neem juice, or ginger juice.
Chelidonium Majus
Chelidonium Majus is a Papaveraceae family perennial herbaceous blooming plant. In traditional Chinese medicine, an extract obtained from the plant has a long history of use.
Medicinal Properties
Greater celandine is often described as a natural cancer cure, but it's also said to help with everything from asthma to atherosclerosis.
Uses
It's available as a pill or a capsule.
You can also eat it by boiling the leaves.
Aegle Marmelos

Aegle marmelos, often known as Bael, is a medicinal plant that belongs to the Rutaceae family and is used in the Ayurvedic school of medicine in India.
Medicinal Properties
Laxative, febrifuge, and expectorant properties are found in the extract made by boiling the bark, leaves, or roots in water. Aegeline is also a recognized component of the bael leaf that is used as a dietary supplement to help people lose weight.
Uses
Diarrhea, dysentery, stomach aches, and cardiac disorders are all treated with the fruits of Bael.
Ophthalmia, deafness, inflammations, catarrh, diabetes, and asthmatic problems can all benefit from the extract of Aegle Marmelos.
Its extracts, when given to the inflamed area, aid in the healing process.
Fever can be treated with Aegle Marmelos leaf juice mixed with honey.
Sarpagandha

Rauvolfia serpentina, often known as Indian snakeroot, devil pepper, or serpentine wood, is a milkweed family member. It is indigenous to the Indian subcontinent as well as East Asia (from India to Indonesia).
Medicinal Properties
Rauwolfia serpentina has long been regarded for its therapeutic properties. It is one of the most effective treatments for high blood pressure, as well as a sedative and tranquillizer. It is the source of reserpine, a phytochemical that has been used to treat systolic hypertension.
Uses
The root powder is used twice a day in a half-gram dose for hypertension, heart disease, insomnia, and epilepsy.
In addition, 1 to 2 sarpagandha tablets taken twice a day with water will help with hypertension.
Chirata
Chirata, commonly known as Swertia, is a genus of plants in the gentian family that includes species known as felworts.
Medicinal Properties
The components that grow above the ground are used to create medication. Fever, constipation, upset stomach, loss of appetite, intestinal worms, skin problems, and cancer are all treated with Chirata.
Uses
Due to its Jvarghana (antipyretic) quality, ingesting Chirata water two times a day helps regulate fever, according to Ayurveda.
Because of its anti-inflammatory and anti-bacterial characteristics, applying a paste of Chirata powder and honey decreases redness and irritation while also preventing infections.
Due to its Ropan (healing) and Pitta balancing characteristics in Ayurveda, Chirata powder with coconut oil aids wound healing.
Kalmegh
Andrographis paniculata, also known as creat, kalmegh, or green chiretta, is a perennial herbaceous plant native to India and Sri Lanka that belongs to the Acanthaceae family.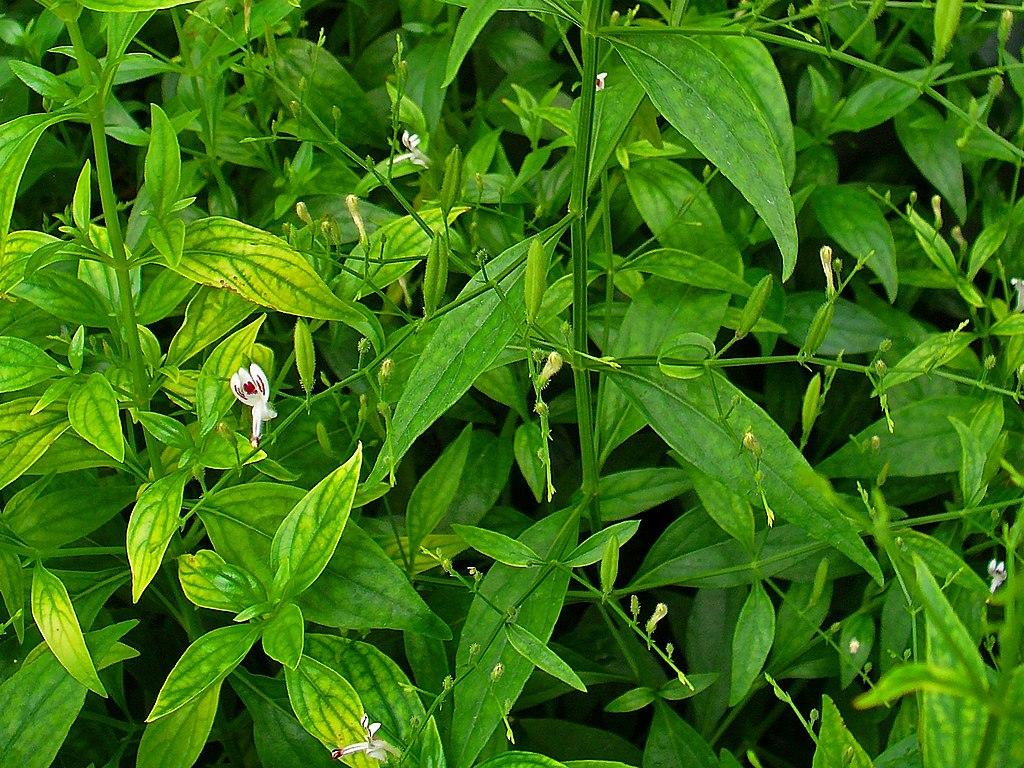 Medicinal Properties
Kalmegh's anti-bacterial and immunomodulatory characteristics aid in enhancing immunity and is used to treat the symptoms of the common cold, sinusitis, and allergies. It is mostly used to treat liver disorders because of its anti-oxidant and anti-inflammatory properties, which protect the liver from free radical damage.
Uses
Regular consumption of Kalmegh churna aids in the management of arthritis by lowering Ama levels and promotes hunger by increasing digestive fire.
Because of its anti-oxidant, anti-bacterial, and anti-inflammatory characteristics, kalmegh powder can be applied to the skin with coconut oil to treat eczema, boils, and skin infections.
Datura metel
Datura metel, also known as Indian Thornapple, Hindu Datura, or Metel in Europe, and Devil's Trumpet or Angel's Trumpet in the United States, is a shrub-like annual (zones 5-7) or short-lived, shrubby perennial (zones 8-10). It belongs to the Solanaceae family.
Medicinal Properties
The plant is grown all over the world as an ornamental as well as for its therapeutic benefits, which are attributed to its tropane alkaloid concentration. If even a tiny amount of Datura metel is consumed, it can be harmful.
Uses
Datura metel is a kind of datura. To treat leprosy, seeds are mashed and mixed into a paste.
All types of wounds are treated with oil-based formulations of the Datura metel plant.
Vitex negundo
The Chinese chaste tree, also known as the five-leaved chaste tree, horseshoe vitex, or nisinda, is a big aromatic shrub with quadrangular, thickly white, tomentose branchlets. It's popular in traditional medicine, especially in South and Southeast Asia.
Medicinal Properties
Vitex negundo, also known by the trade names Ascof and Plemex, is used in the Philippines to protect stored garlic from pests and as a cough treatment. It is used in Malaysian traditional herbal medicine for women's health, including menstrual cycle regulation, fibrocystic breast disease treatment, and post-partum therapies.
Uses
Obesity can be cured by taking a teaspoon of the juice derived from the leaves orally every day.
The vitex negundo leaves are cooked in mustard oil, which is then filtered and used as an ear drop.
To treat skin problems, little bits of the plant is combined with cow's urine and applied to the affected area.
Justicia adhatoda
The Asian medicinal plant Justicia adhatoda, also known as Malabar nut, adulsa, or adhatoda in English, is widely utilised in traditional medicine.
Medicinal Properties
In irritating aerosols and citric acid-induced cough models, the plant has been shown to have antitussive efficacy comparable to codeine. Vasa is often used in Ayurvedic medicine to alleviate coughs and other respiratory problems. The plant's liquid extract is utilized as an expectorant in several medicinal compositions.
Uses
The Malabar nut is used to ease spasms, open the airways in the lungs, and loosen chest congestion.
For best effects, use ten drops of Justicia Adhatoda Tincture diluted in half a cup of water three times a day.
Furthermore, its flowers are utilized in an Ayurvedic concoction to cure tuberculosis.
Terminalia Arjuna
Terminalia arjuna, sometimes known as arjuna, is a member of the Combretaceae family. In India, Terminalia arjuna is an evergreen tree. It is a huge tree with a height of 20–30 metres that belongs to the Combretaceae family.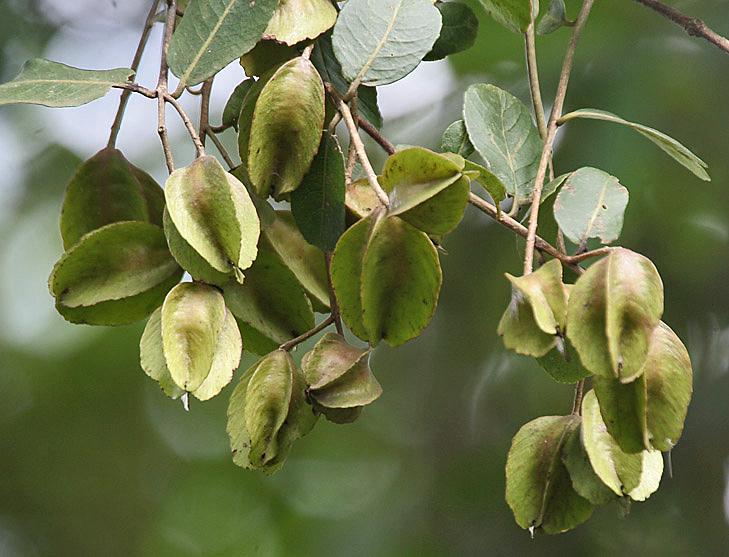 Medicinal Properties
Its root extract is used for anginal discomfort, high blood pressure, heart problems, and dyslipidemia in the Indian subcontinent, based on centuries of observations by ancient physicians. It can also be used to treat ulcers, fractures, liver cirrhosis, ischemic heart disease, and hypertension.
Uses
Along with standard therapies, 500 mg of Terminalia arjuna powdered bark can be administered every 8 hours to relieve chest pain after a heart attack.
Arjuna chaal boiled in milk should be consumed 1-2 times a day for maximum benefits in the case of heart issues.
Cinchona officinalis
Cinchona officinalis is a Rubiaceae tree native to South America. It is found in wet montane forests between 1600 and 2700 metres above sea level in Colombia, Ecuador, Peru, and Bolivia.
Medicinal Properties
Cinchona is used to treat moderate influenza, swine flu, the common cold, malaria, and fever in some persons. Cancer, tongue and throat diseases, an enlarged spleen, and muscle cramps are among the other uses. Cinchona officinalis is a medicinal plant that is one of several Cinchona species used to make quinine, an anti-fever medication.
Uses
The bark is used to prepare medication.
Saliva and stomach (gastric) juice secretion is stimulated by cinchona bark. It contains the chemical quinine, which is used to cure malaria.
Cinchona extract is also used topically to treat haemorrhoids, promote hair development, and treat varicose veins.
Boerhavia Diffusa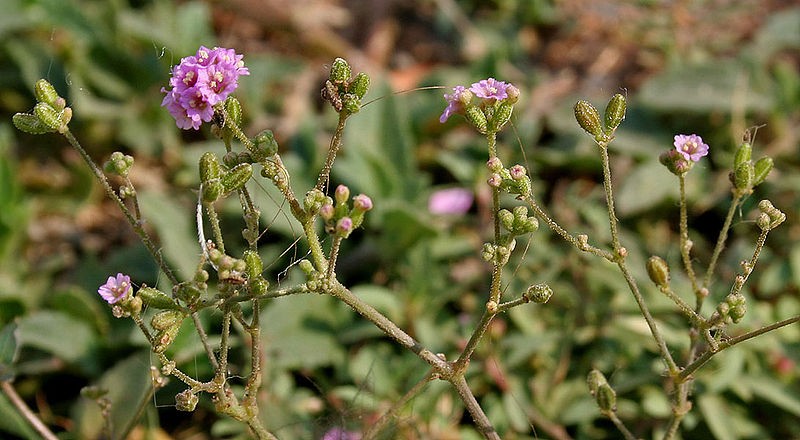 Boerhaavia diffusa is a flowering plant in the four o'clock family that is also known as punarnava, red spiderling, spreading hogweed, or tarvine (in Ayurveda, punarnava means "that which rejuvenates or renews the body").
Medicinal Properties
It is said to have antiaging, illness prevention, and life-strengthening properties, all of which have a significant impact on disease burden and healthcare affordability/availability around the world.
Uses
This plant's root is an anti-convulsant, analgesic, and laxative drug that can be used locally for cataracts, chronic conjunctivitis, and blepharitis when rubbed with honey.
Punarnava leaves can also be eaten as a vegetarian dish to help with oedema.